The Wainuiomata Coast Road Church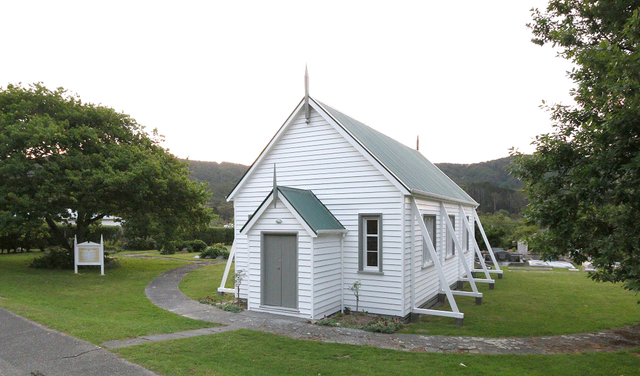 The Wainuiomata Coast Road Church is the third oldest Church in the Wellington Region, and the oldest of the original Methodist Churches in the region. It has a Category II listing with the New Zealand Historic Places Trust - one of only two listed buildings in Wainuiomata.

Built by the pioneers in 1866 as a Wesleyan Church (Methodist), it was used for regular services until the Congregation outgrew it and moved to the new St Stephens Church in 1957.
Since then, although the Congregation held at least one service per year in the old building, it had laid unused as a Church. However during this time it had been occupied as a club rooms for the now defunct Wainuiomata Arts Society from 1972 until 2009.
In 2006 the Wainuiomata Pioneer Church Preservation Society was formed by a group of supporters who were passionate about preserving the building and Churchyard, thus preserving part of Wainuiomata's important historical and social heritage. In July 2010 the Wainuiomata Union Church handed over the keys to the Society in a formal handing over ceremony.
The Church is still a consecrated Church, but it is also now non-denominational, and we are happy to take bookings for Weddings and Funerals. We also welcome same sex Weddings.
Please contact us for booking information
Our new book on the history of the Church and Churchyard, "Our Buried History, Coast Road Church Wainuiomata" can be ordered here
If you would like to join us to help preserve this Historic Church and Churchyard, go to the Membership Form