Churchyard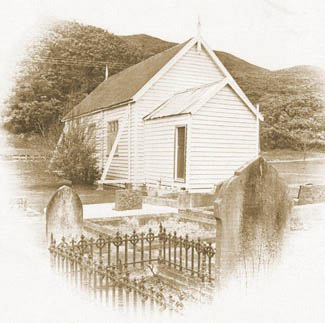 Although mostly referred to as the Coast Road Cemetery, the correct description is the Coast Road Churchyard. A Churchyard is the yard or ground adjoining a Church, often used as a place of burial. A cemetery is an independent burial ground, not attached to any Church.
The first known burial in the Churchyard was that of James Riddle, a labourer aged about 60, who died in 1862 from injuries suffered when a tree fell on him. At the time the Sinclair's were operating a saw mill in Wainuiomata and James Riddle was likely to have been employed there.

This was the only Church and Churchyard in Wainuiomata for many years, and although it was a Methodist place of worship, interments of other denominations can be found in here.
The Churchyard was officially closed for burials by The Ministry of Health in February 2010. The site is now a recognised Archaeological Site as there are burials pre-dating 1900. However interment of ashes for relatives of those already buried in the Churchyard is still a possibility, but an Archaeological Authority may be needed first. Please contact the Society for further details.
-J Hughes photo